Ok , so we have a swag of shows coming up , so we've packaged them up and will be delivering them to you under the guise of
" COSMIC RUNWAY TOUR "   See you at the shows trendsetters !!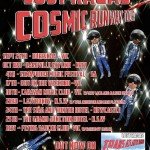 '
OUT NOW !!  NEW ALBUM  –  TRANS ATLANTIC HIGHWAY
Available on CD  and  Vinyl !!  Wow  !!
 "It's like Sturgill Simpson and Beck jamming with the ghost of Harry Nilsson " Chris Familton – Post To Wire
Check out the single MARIJUANA MORNINGS !